What is a finger number?
Pianos have "finger numbers".
This finger number indicates which notes are most efficient to play with which fingers.
They will advise you on how to move your fingers not simply to play that note, but to play the next note after that.
Piano scores sometimes have numbers above or below the notes.
So which number refers to which finger?
Finger numbers have numbers from 1 to 5.
1: Thumb
2: Index finger
3: Middle finger
4: Ring finger
5: Pinky finger
The first two are the same for both right and left hands. (common to both right and left hands)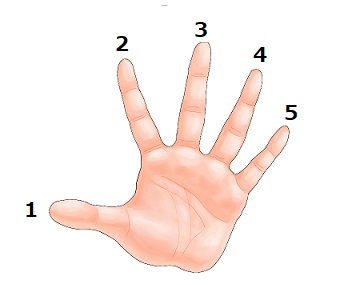 Generally, the upper part of the score is played by the right hand and the lower part by the left hand.
Therefore, the numbers of the notes in the upper row are often right-hand fingerings, while the numbers of the notes in the lower row are left-hand fingerings.
Training with finger numbers
Let's try training with finger numbers.
Training Methods
(1) Place both hands on the desk as if you were playing the piano (see below for posture).
(2) Look at the hands and numbers listed and move only your right hand (push the desk with a ton of fingers).
(iii) Let's move only the left hand in the same way.
(4) Finally, move the left and right sides at the same time.
That's all.
Let's start with step 1.
Once you can move both sides smoothly at the same time, let's move on to the next step.
After step 3, the left and right fingers are numbered differently.
Step 1
[1,2,3,4,5,4,3,2,1]
Step 2
[1,3,5,2,4,5,2,4,1]
Step 3
Right hand [5, 4, 3, 2, 1].
Left hand [1, 2, 3, 4, 5].
Step 4
Right hand [1, 3, 5, 4, 2].
Left hand [1, 3, 1, 3, 1].
Step 5
Right hand [1, 5, 4, 2, 4, 1].
Left hand [3, 4, 5, 4, 1, 2].
That is all.
If step 5 can be done smoothly, it is perfect.
Then you can make up your own numbers as you see fit and practice.