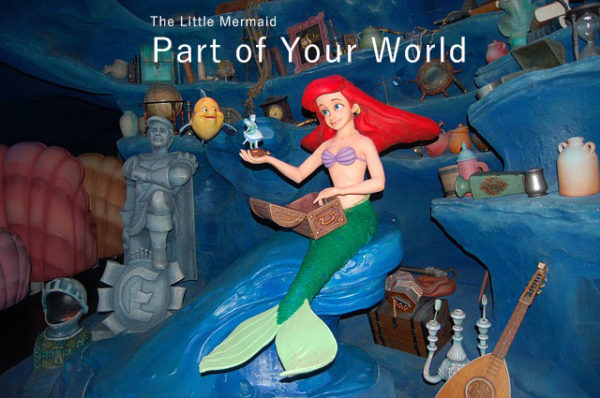 Part of Your World" (English name: Part of Your World) was the theme song for "The Little Mermaid," which was released in Japan in 1991.
It's a song that Ariel, the main character of The Little Mermaid, sings while dreaming of the wonderful world of land, looking at the Nanika she found on land.
It is so popular in Japan that it always ranks high as a Disney song in karaoke rankings.
When I hear this song, I think of scenes from a musical by the Shiki Theater Company rather than scenes from an animated movie.
It was truly a wonderful musical, and if you haven't seen it, please do so.
Walt Disney
¥1,792
(2023/09/21 15:53:37時点 Amazon調べ-
詳細)
We have already posted the free sheet music for Under the Sea, which was used as the theme song in the film, and now we present the free sheet music for Part of Your World.
It is one of the most popular Disney music songs.
Part of Your World Free sheet music
Here is the free sheet music for "Part of Your World" from it.
Due to copyright fees, free sheet music is only available for browsing. Please note that downloading or printing requires purchase. You can use the music on your smartphone or tablet by opening the sheet music and placing it on the music stand.
We have also embedded YouTube videos of performances at the links, so you can look at or listen to each score carefully and choose the one you like best. Click on the score image to go to the link.
If you don't like any of the free sheet music introduced here, you can purchase and play professionally written piano sheet music sold at Plinto Sheet Music, which is operated by YAMAHA.
Part of Your World_Piano Score 1 (Introductory)
First is a simple score with do-re-mi of my own composition.
It uses the same keys as the original song, so several black keys are used.
Check each note carefully and play it while looking at the Do Re Mi scale.
You can use the right hand melody line to play on other instruments such as the recorder or pianica.
Difficulty level is Introductory is.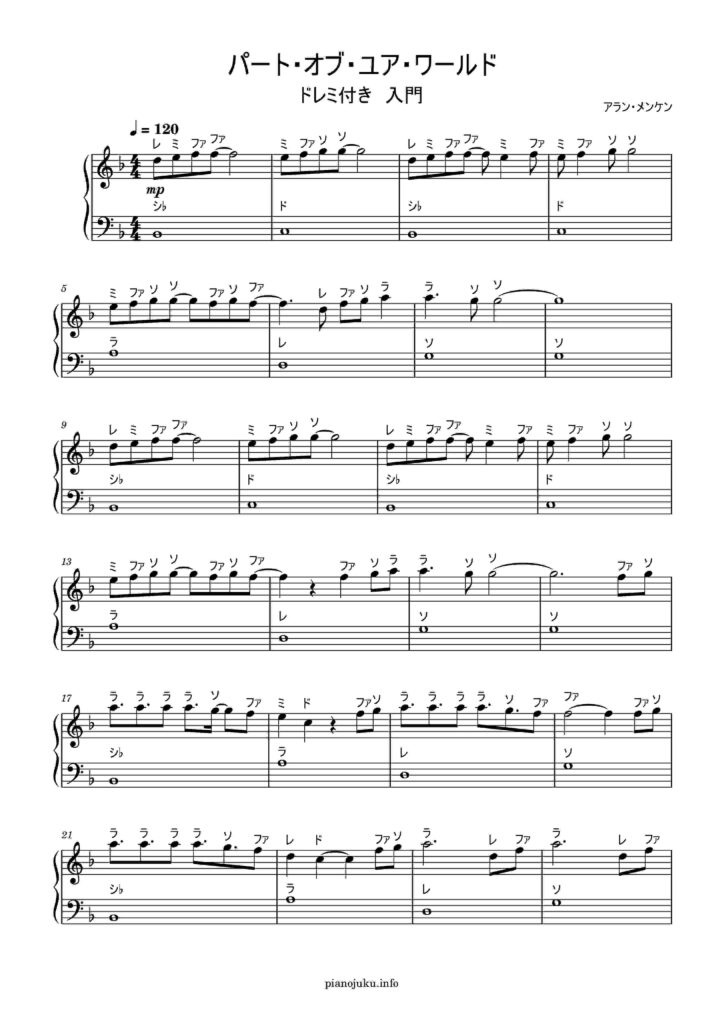 Part of Your World_Piano Score 2 (Elementary)
Next is a somewhat more difficult score.
If you can play Burgmuller, etc., this sheet music is recommended.
Difficulty level is Elementary is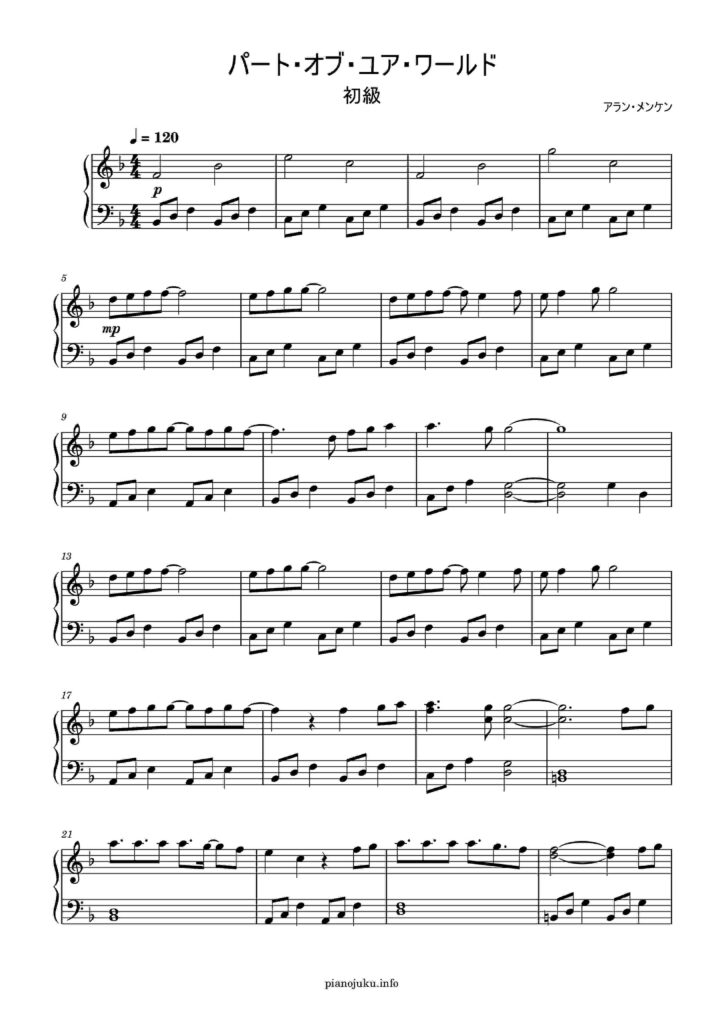 Part of Your World_Piano Score (3) (Intermediate)
Finally, the score is for those who can play the piano to some extent.
The score is based on a certain sound source, but some may feel a little uncomfortable.
The difficulty level is intermediate.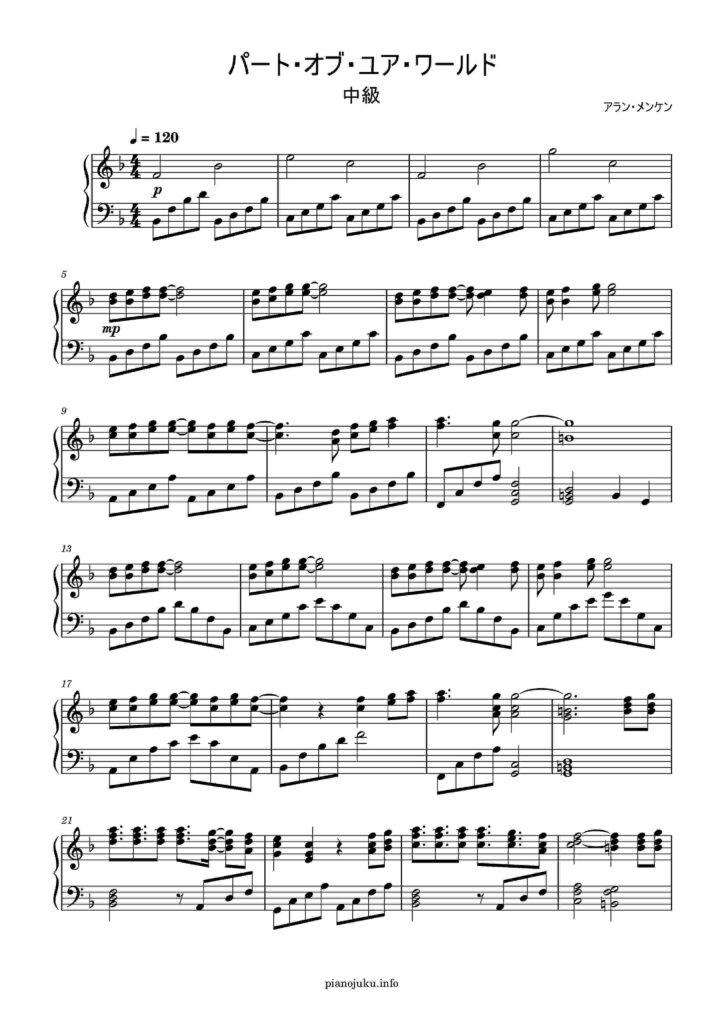 -Part of Your World – Sheet Music
Finally, here is some professionally produced sheet music by "Plinto-Gakuho", which is operated by YAMAHA.
There is a fee for this service, so if you are not satisfied with the free sheet music above, please look for it here and take a look. You can find sheet music of various difficulty levels and arrangements.
You can buy music by the piece, so it is more economical than buying a music book at a bookstore.