Studio Ghibli, with the collaboration of directors Hayao Miyazaki and Joe Hisaishi, has produced numerous hits.
From "Nausicaa of the Valley of the Wind" (though not officially) to "The Wind Rises," many of these works will remain in your mind.
Among the many piano scores, the scores of the Ghibli works composed by Joe Hisaishi have become very popular to this day, and many scores have been published.
Of course, there are also published separately for each Ghibli work, as well as sheet music compiled as a comprehensive collection.
In this issue, we introduce free medley sheet music of such Studio Ghibli works.
Please click on the image of the score to go to the link for more details.
Of course Downloading and printing is possible of course, downloadable and printable.
If the free sheet music we introduce just doesn't fit your needs, please try purchasing professionally written sheet music at a bookstore or online.
Ghibli_Medley Score (1)
Next we present this piano sheet music.
Although there are fewer songs included in this medley than in (1) sheet music, it was a fun medley to play with melodies that used relatively high notes.
Difficulty level is Intermediate is
In particular, "My Neighbor Totoro" recorded at the end is a score that we would like you to try playing as a healing music.
The film titles included in the collection are
Laputa: Castle in the Sky
Howl's Moving Castle
My Neighbor Totoro
It is.
Ghibli_Medley Score (2)
Next is this piano score.
This piano score is the longest one presented here and contains the most pieces.
In addition, the overall arrangement is simple and easy to play even for beginners.
Difficulty Levels are Beginner to Intermediate The level of difficulty is
The film titles included in the collection are
Howl's Moving Castle
Witch's Delivery Service
Spirited Away
Laputa: Castle in the Sky
Princess Mononoke
Ponyo on the Cliff
My Neighbor Totoro
Nausicaa of the Valley of the Wind
Red Pig (Vulpes vulpes)
returning a favor to one's cat
Listen to me! (used to get an answer in an emergency situation, etc.)
It is. (Oh, there are so many)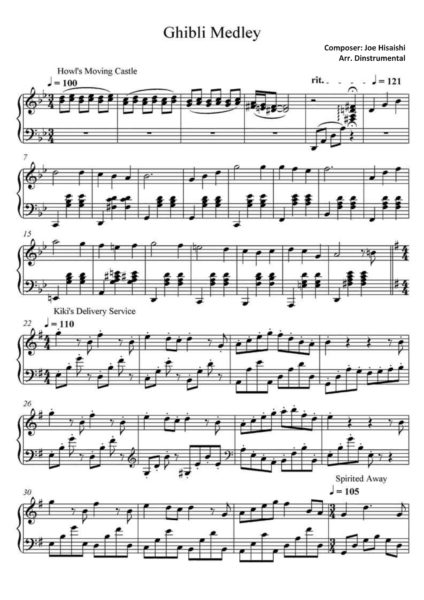 *Please find "Studio Ghibli" and "Ghibli Medley (Transcribed by Dinstrumental)" at "https://ichigos.com/sheets/s"
Ghibli_Medley Score (3) (Continuo)
This piano score is Sheet music for two pianos with two pianos.
Duet or duet might be correct instead of a duet.
To be honest, I rarely perform in such a situation, but since it was so perfect, I will introduce it to you.
Of the two parts, the upper part is for relatively easy beginners, while the lower part is for intermediate players.
It may have been designed to be played by parents and children.
Difficulty levels are Beginner to Intermediate/Intermediate are.
The film titles included in the collection are
My Neighbor Totoro
Spirited Away
Howl's Moving Castle
It is.
authority