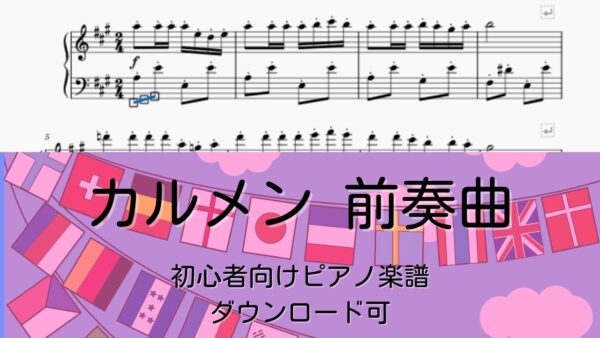 Prelude to Act I" from the opera Carmen, one of the standard songs for field day.
It is a famous song that has been used not only in athletic events, but also in various scenes in dramas, movies, and variety shows.
In this issue, we will introduce the piano sheet music for this song.
The original piece is orchestral, but I will present a scoring of this piece for piano. The tempo is fast and the movements are complex, making it somewhat more difficult.
Prelude from Carmen Free sheet music
Here is the free sheet music for Bizet's "Prelude from Carmen".
Take a good look or listen to each score and choose the one you like best. Of course, you can download and print them. Click on the score image to go to the link where you can download and print it.
If you don't like any of the free sheet music introduced here, you can purchase and play professionally written piano sheet music sold at Plinto Sheet Music, which is operated by YAMAHA.
Prelude from Carmen – Free sheet music, free (beginner-intermediate)
First, a simple score of my own composition.
Except for the final conclusion, all notes are single-note, eliminating trills and other difficult playing.
However, as mentioned above, the fast tempo and complex movements make it somewhat challenging.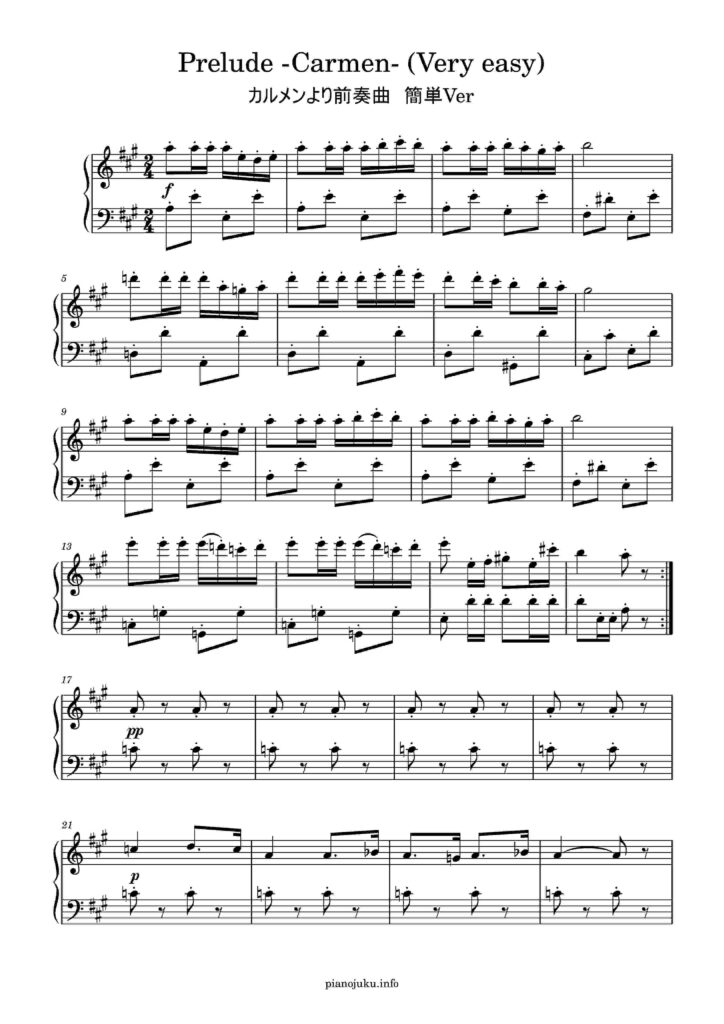 -Prelude from Carmen – Free sheet music (Intermediate to Advanced)
Finally, it is a highly complete score that is arranged for piano while reproducing the original very nicely.
It is quite difficult, so let's play it with enthusiasm.
-Prelude from Carmen – Sheet music
Finally, here is some professionally produced sheet music by "Plinto-Gakuho", which is operated by YAMAHA.
There is a fee for this service, so if you are not satisfied with the free sheet music above, please look for it here and take a look. You can find sheet music of various difficulty levels and arrangements.
You can buy sheet music by the piece, so it is more economical than buying a book of sheet music at a bookstore.
¥1,650
(2023/11/29 15:16:30時点 Amazon調べ-
詳細)