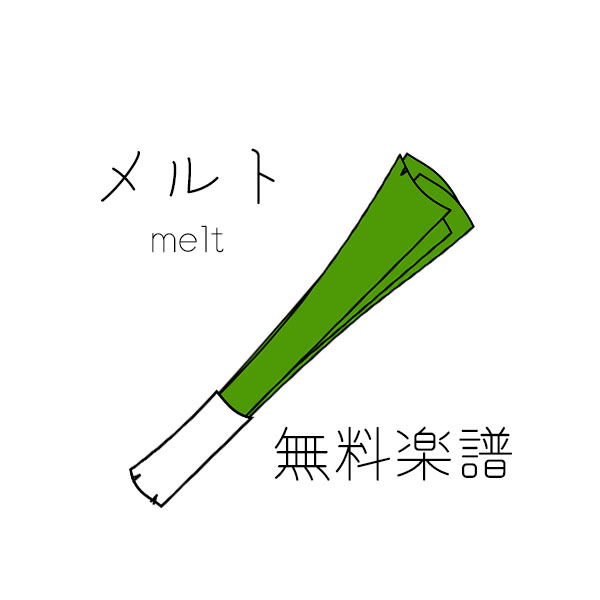 Many people have registered "Melt" in their My List (Favorites) on Nico Nico Douga.
This song is a famous Vocaloid song produced by supercell, famous for "Kimi no Shiranai Monogatari" of Bakemonogatari.
This song may have been the first time for many of you to get to know Vocaloids.
The song's lyrics, which resonate with the younger generation, especially junior high and high school students, and the fact that many of them are in love with Hatsune Miku, have spread quickly.
In this issue, we will introduce the sheet music for "Melt.
Compared to other vocaloid songs such as "The Disappearance of Hatsune Miku" and "Matryoshka," this song is a ballad with a strong melody.
Therefore, this sheet music is basically Many of the scores are gentle and easy and easy.
Many of the scores can be played by beginners with a little practice, so please give it a try.
Please click on the image of the piano sheet music to go to the link for details.
All sheet music is available for Downloading and printing is possible. and printable.
If the free sheet music we introduce just doesn't fit your needs, please try purchasing professionally written sheet music at a bookstore or online.
Melt_Piano Score 1 (Advanced)
The first one is this piano score.
Although I said "many of the scores are easy," they are suddenly very difficult. 。。。。
However, it is nothing compared to the " score of the disappearance of Hatsune Miku.
If you can play sheet music of this quality for free, it is more than enough.
Difficulty level is Advanced is
If you are a confident piano player, this is the place for you.
from theishter.com
Melt_Piano Score② (Intermediate_Marasy Ver.)
Next we present this piano sheet music.
This sheet music is a meld performed by Marasy (marasy8), a famous pianist on Nico Nico Douga and YouTube.
…but the degree of perfection is not very high.
Was it made with automatic scoring software?
The " arpeggios" and " glissandos" are not notated well.
You can play it at the link, and once you listen to it, you should be able to hear "What is this? you should be able to hear the arpeggio once you listen to it.
Other than those two things, the score is unquestionable, so please enjoy it as well!
Difficulty level is Intermediate is
from MuseScore
Melt_Piano Score (3) (Elementary)
Next we present this piano sheet music.
This is a simple score with "repetition of simple dispersed chords in the left hand" and "almost only melody in the right hand".
It may be a little difficult for beginning piano players, but it is still not a difficulty level that cannot be played.
We encourage you to take up the challenge.
Difficulty level is Elementary is
from MuseScore
Melt_Piano Score 4 (Introductory_Melody Score)
Next we present this piano sheet music.
This sheet music is mainly melody notation with only the melody part of the meld song notated.
We recommend this for beginners, small children, and piano app users.
Difficulty level is Introductory is.
from Kumquat bowl