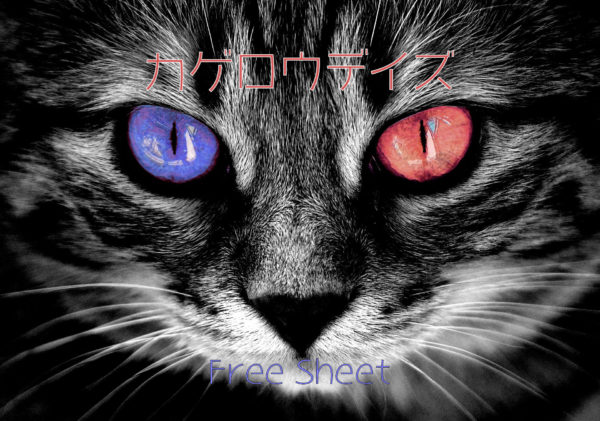 The "Kagero Project" started in 2012.
Kagero Days" is counted as one of its representative songs.
Even now, years later, on August 14 and August 15, the number of views of the Youtube video goes up very high. (See the original story for why these dates are so important.)
It has been ranked No. 1 several times in the weekly VOCALOID ranking on Nico Nico Douga as well.
In this issue, we will introduce free piano sheet music for this "Kagero Days.
Since the song is fast-paced, it naturally features many phrases that require fast tempo and fast playing.
Please note that the overall score is somewhat difficult.
Please click on the image of the piano sheet music to go to the link for details.
All sheet music is available for Downloading and printing is possible. and printable.
If the free sheet music we introduce just doesn't fit your needs, please try purchasing professionally written sheet music at a bookstore or online.
Kagero Days_Piano Score 1 (Advanced)
The first one is this piano score.
The original music is put together at a moderate difficulty level.
I think it is intermediate difficulty until the middle of the song, but it is very difficult from the middle to the end of the song.
Do not judge the difficulty level by looking only at the beginning of the score.
Difficulty level is Advanced is
This is the most recommended of the sheet music presented here.
from MuseScore
Kagero Days_Piano Score 2 (Intermediate)
Next we present this piano sheet music.
It is even easier to play than (1) sheet music.
The title and lyrics are written in Korean, but unfortunately I cannot read them.
If you are interested, please ask someone who can read. 。。。。
In the middle of the accompaniment of the left hand, there is a series of chords that are like, "You can't reach my fingers! The left hand accompaniment is a series of chords like "You'll never be able to reach my fingers!
In such cases, do not hesitate to shave off the bottom or top note.
Difficulty level is Intermediate is
from MuseScore
Kagerou Days_Piano Score 4 (Elementary_Melody Score)
Lastly, we present the melody score of the Lost One's No. 1 Wail.
The original melody is very fast, so it may be difficult for beginners who are using a piano application or just starting to play the piano.
Difficulty level is Elementary is
from MuseScore
¥825
(2023/09/21 16:41:44時点 Amazon調べ-
詳細)
authority