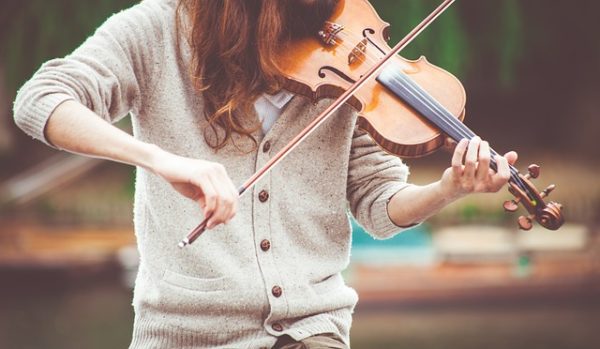 Mimi wo Sumeba" is a Studio Ghibli film directed by Hayao Miyazaki and aired in 1995.
Unusually for a film by Hayao Miyazaki, this is a coming-of-age romance film.
The catchphrase, "I have found someone I like," was used in TV commercials.
Although the film itself did not seem to sell well, subsequent terrestrial broadcasts have consistently received viewership ratings of around 15%.
It is, after all, a work that you can't help but look at.
It makes my chest itch to look at it. (LOL)
The main song "Country Roads," whose English name is "Take Me Home, Country Roads," was originally sung by a John Denver in 1971.
In this issue, we will introduce sheet music for the songs that appear in "Mimi wo Sumeba".
Please click on the image of the score to go to the link and view it there.
We will introduce sheet music from our sister sites and other sites, but due to copyright fees, most of the sheet music is for viewing only. Please note that you may not be able to download or print the music. You can use the music on your smartphone or tablet by opening the sheet music and placing it on the music stand.
We have also embedded a YouTube video of a performance at the link, so you can take a closer look or listen to each score and choose the one you like best. Of course, you can download and print them. Please click on the image of the sheet music to go to the link to download or print it.
If you don't like any of the free sheet music introduced here, you can purchase and play professionally written piano sheet music sold at Plinto Sheet Music, which is operated by YAMAHA.
Country Roads (Take Me Home, Country Roads)
The first song is the theme song, "Country Road.
Personally, I like the original song, but I really like Country Road with Tsukishima Shizuku's singing voice to the song arranged in the movie.
Score 1 (Introductory)
Here is a simple score with do-re-mi that I made myself.
It is transposed to C major so as not to play the black keys as much as possible, and the composition is simple.
Intros and interludes are omitted.
<Click on the link below for sheet music.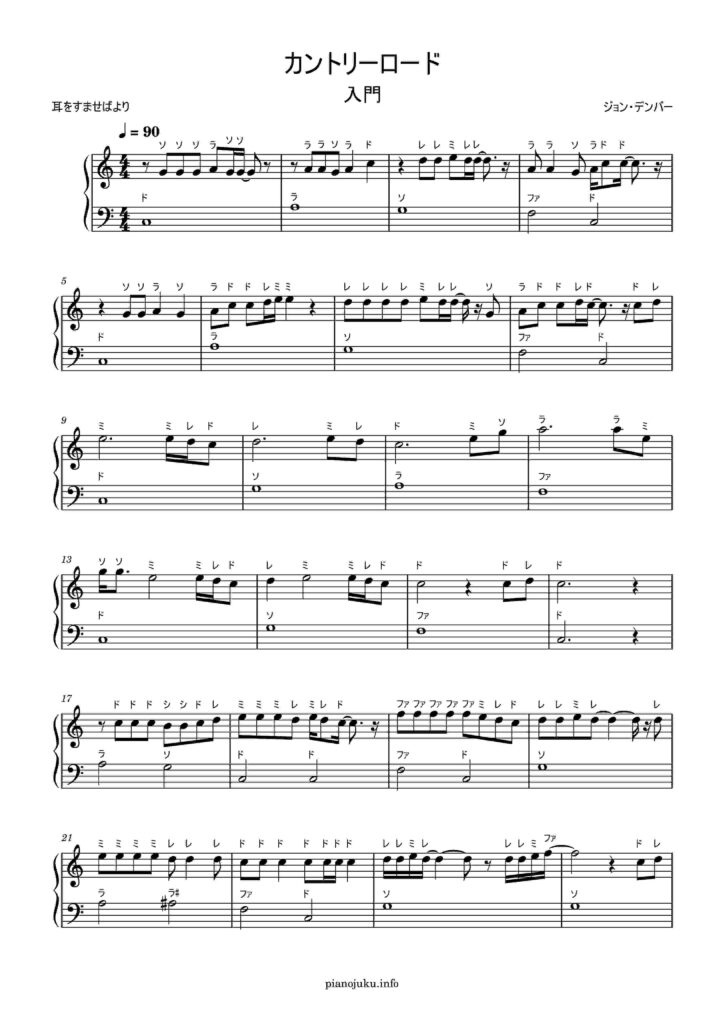 Score 2 (Elementary)
Here is the sheet music arranged in a different key for beginner difficulty.
It is probably a Burgmüller graduation level of difficulty.
If you can play (1) without any problems, try this one.
<Click on the link below for sheet music.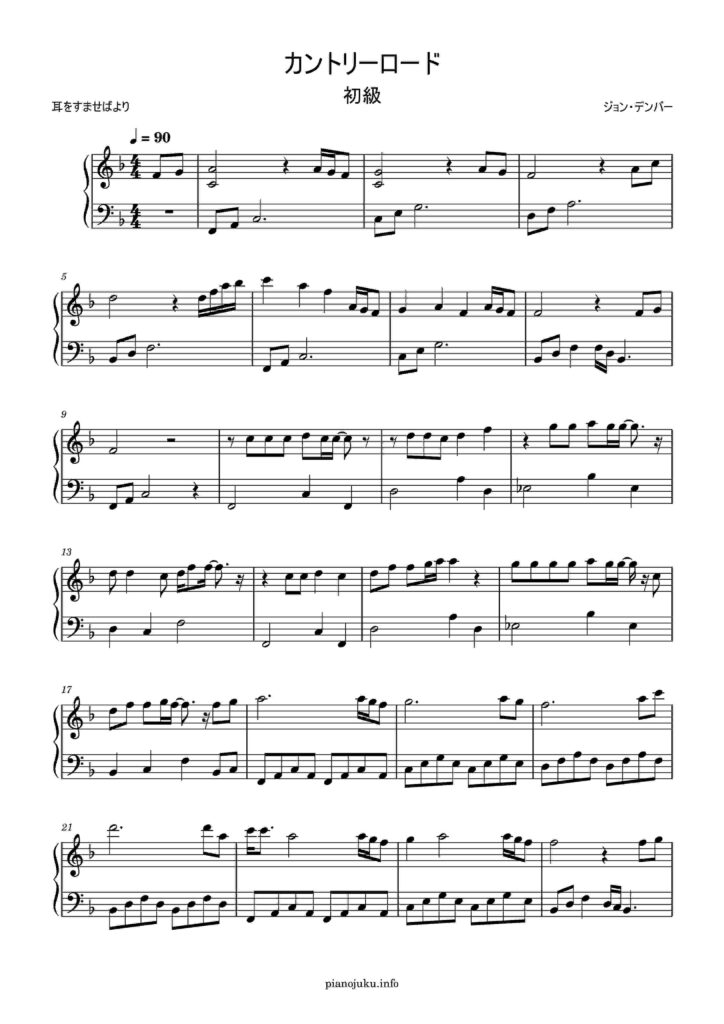 Score 3 (Intermediate)
Finally, this is a score of intermediate difficulty for those who can play the piano to some extent.
The atmosphere is changed between the beginning and the end of the song, which may be liked or disliked by different people.
There is also a performance video at the link, so check it out once before playing.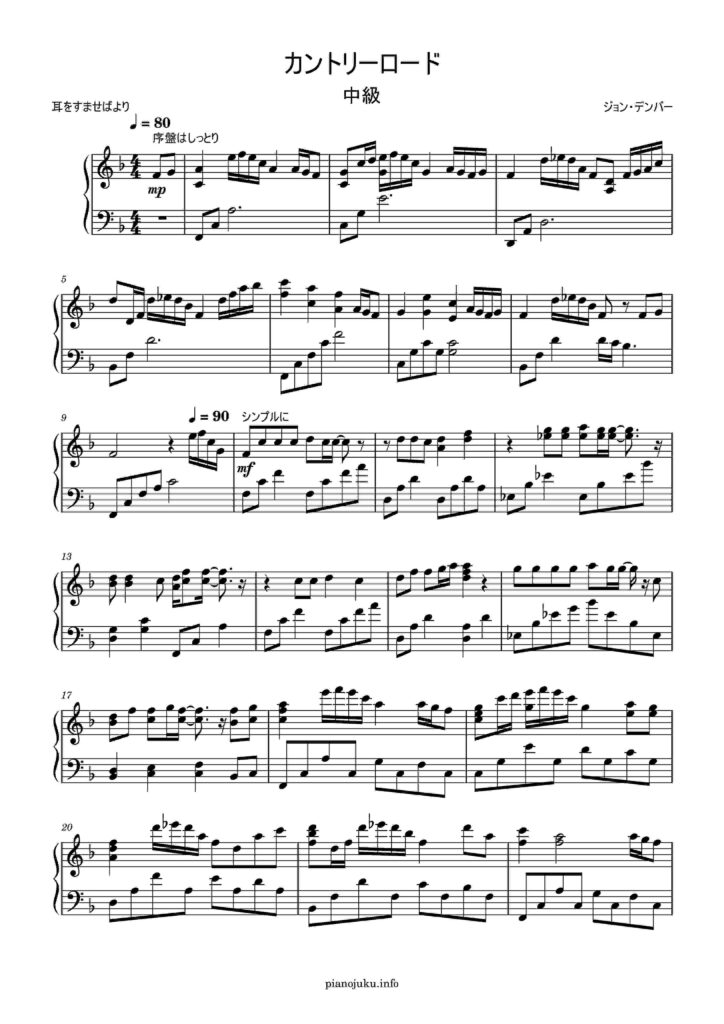 Barron's song
Next up is "Songs of the Baron".
You may not know this song, but it has a surprisingly large number of fans.
I had never consciously heard of Ghibli music until I started playing it on the piano, but it is a great song.
If you don't know it, but have seen the movie, you may say, "I've heard something about this.
The right hand of this score is not so difficult, but the left hand is somewhat more difficult, with a series of chords in the first half and irregular movements in the second half.
Therefore, the difficulty level is intermediate to high.
Some may not be able to reach the four chords in the beginning.
In that case, I would suggest omitting the bottom note and playing it.
<Click on the link below for sheet music.
Also recommended ↓↓↓
authority