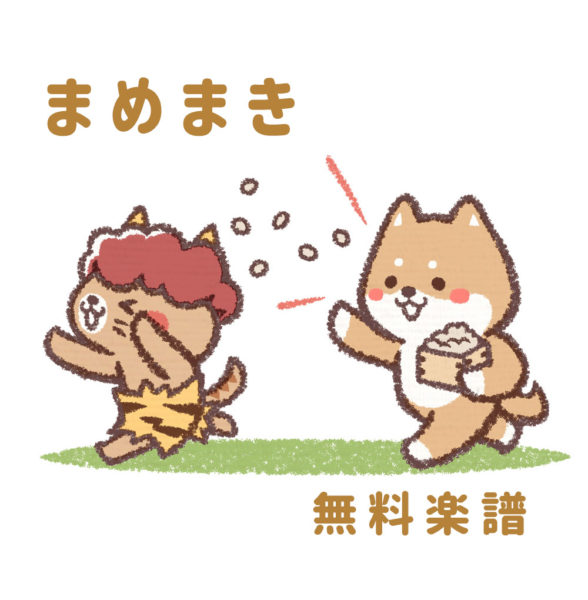 Speaking of Setsubun, this song is "Mamemaki".
The sound of the blistering blistering blistering blistering blistering blistering blistering blistering blistering blistering blistering sound.
It is a children's song that is very bright and stays in your head once you hear it, which is evident from the lyrics of the song.
This is a Japanese song published in the early Showa period, but the author of the song is unknown.
Maybe the people who created it did not expect it to be so popular in the world.
In this issue, we will introduce free sheet music for "Mamemaki".
It is one of the easiest pieces to play for children and beginners because it is very short and simple.
Sheet music with do-re-mi is also available for beginners.
Click on the image of the sheet music to go to the link.
You can download andprint it at the link.
Download and print it or play it while viewing it on your iPad or other tablet!
Mamemaki Free Sheet Music (Score 1) (Introduction to C major with Do Re Mi)
The first one I would like to introduce is a simple sheet music with do-re-mi, which I made by myself. (This is the sheet music from the Youtbe video at the beginning)
It is transposed to C major and is notated with no black keys at all.
The last line is a little difficult to finger. Please use the finger numbers as an example for your reference.
Please use this if you play on your phone's piano app or pianica.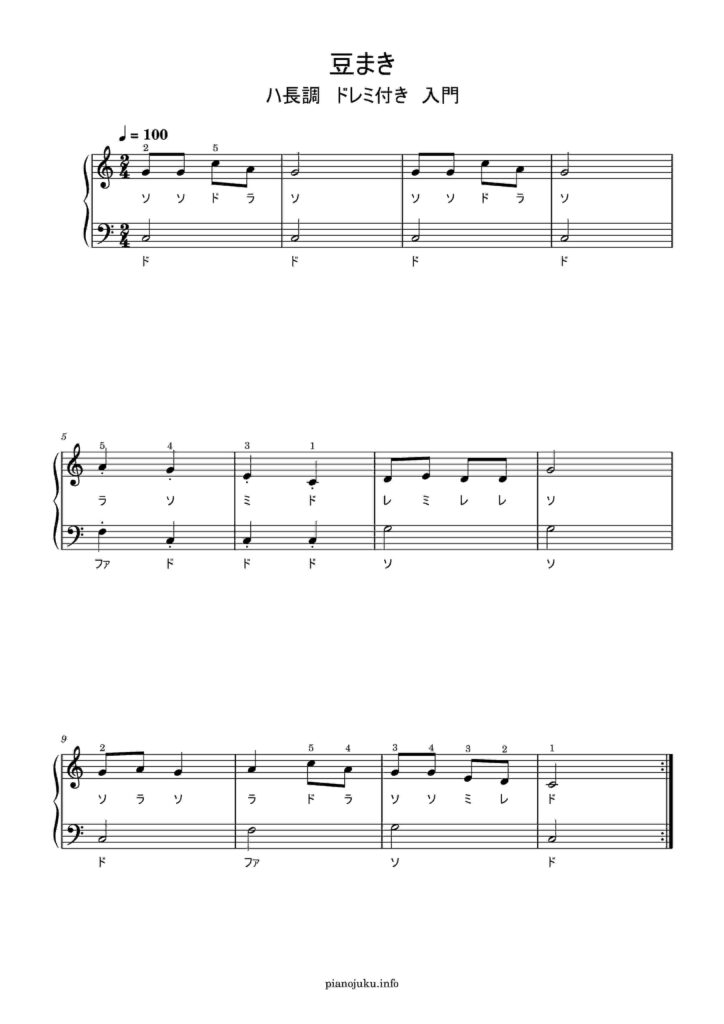 Mamemaki Free Sheet Music (2) (Elementary)
The following is an introduction to other sites and sheet music for beginners.
Like (1), it is made in the key of C major, but chords can sometimes be found, especially in the left hand.
Since the same pattern is repeated, if you play slowly and without rushing, you will be able to pull it off without problems.
Also, the score includes a prelude, so it is easy to use when singing with children.
The difficulty level is elementary.
Mamemaki Free Sheet Music (3) (Beginner – Intermediate)
The last one is a self-written score in G major.
The slightly wider range of the left hand may make it a little difficult for beginners.
When you are comfortable with your playing, think of the lyrics of the song and change the tempo and intensity in your own way.
Bean-throwing- Score
Finally, here is some professionally produced sheet music by "Plinto-Gakuho", which is operated by YAMAHA.
There is a fee for this service, so if you are not satisfied with the free sheet music above, please look for it here and take a look. You can find sheet music of various difficulty levels and arrangements.
You can buy music by the piece, so it is more economical than buying a music book at a bookstore.
Click here for free sheet music of other nursery rhymes
【初心者向け無料楽譜】民謡・童謡・合唱曲 楽譜一覧