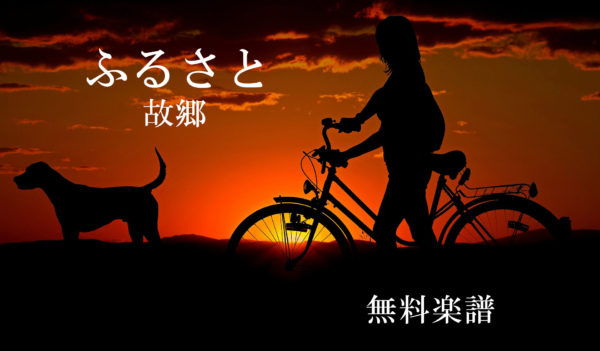 Every Japanese person knows the children's song "Hometown (Furusato)".
The song was once selected as a shoka by the Ministry of Education and was always found in textbooks.
It is still widely popular today, of course, and can be found in many of the latest music textbooks.
As a native of the countryside, I always heard it playing at 5:00 in the evening to the point that I had calluses in my ears. (Do they have them in urban areas?)
In the area where I currently live, the evening music is usually a different song, but during summer vacation the familiar "Furusato" is played.
In this issue, we introduce free sheet music of "Hometown (Furusato)".
Some of the scores are made for children and beginners with do-re-mi, so please use them.
Let's get started with free piano sheet music.
Click on the image of the sheet music to go to the link.
You can download andprint it at the link.
Download and print it or play it while viewing it on your iPad or other tablet!
Furusato Free sheet music (1) (with Doremi)
The first one is a melody score with do-re-mi that I transcribed.
It is not just a melody with a do-re-mi, but modulated to C major.
Therefore, it can be played without using any black keys.
One thing to note is the "so" on the far right of the first line.
Only this "so" is "lower so" than the center "do," so be careful not to play a high so.
Please use this if you play on your phone's piano app or pianica.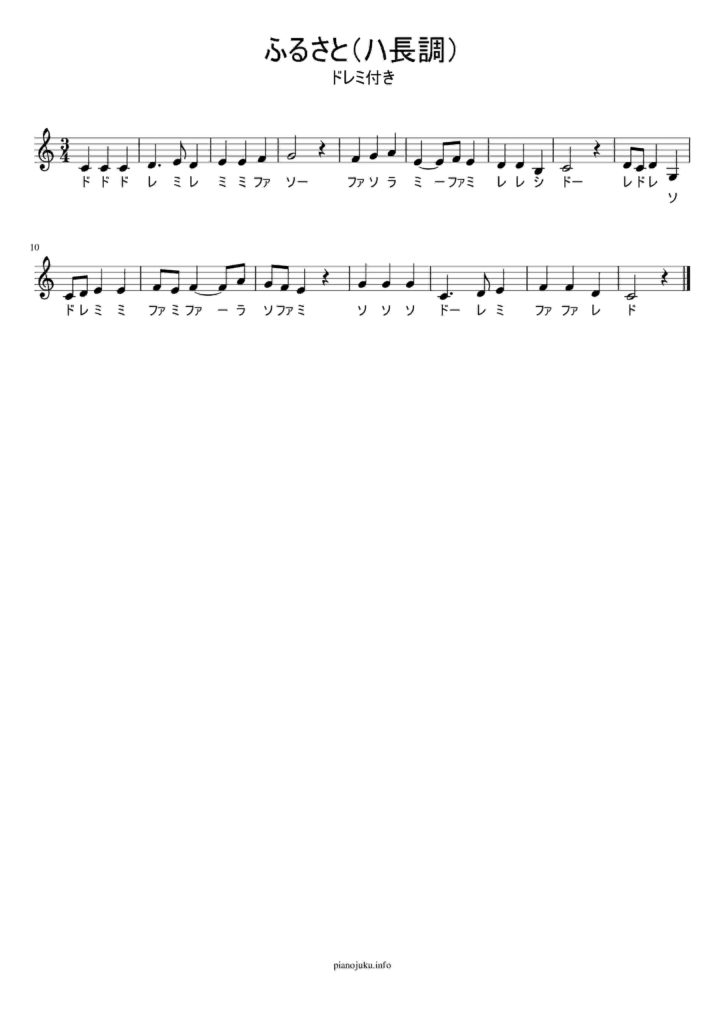 Furusato Free Sheet Music (2)
The following is sheet music with dolemi for beginners who play with both hands.
The right hand is similar to (1). The left hand is fairly simple, only a few notes are used, and the finger positions can be played in a fixed position all the time.
Easy sheet music for beginning piano students.
The difficulty level is elementary.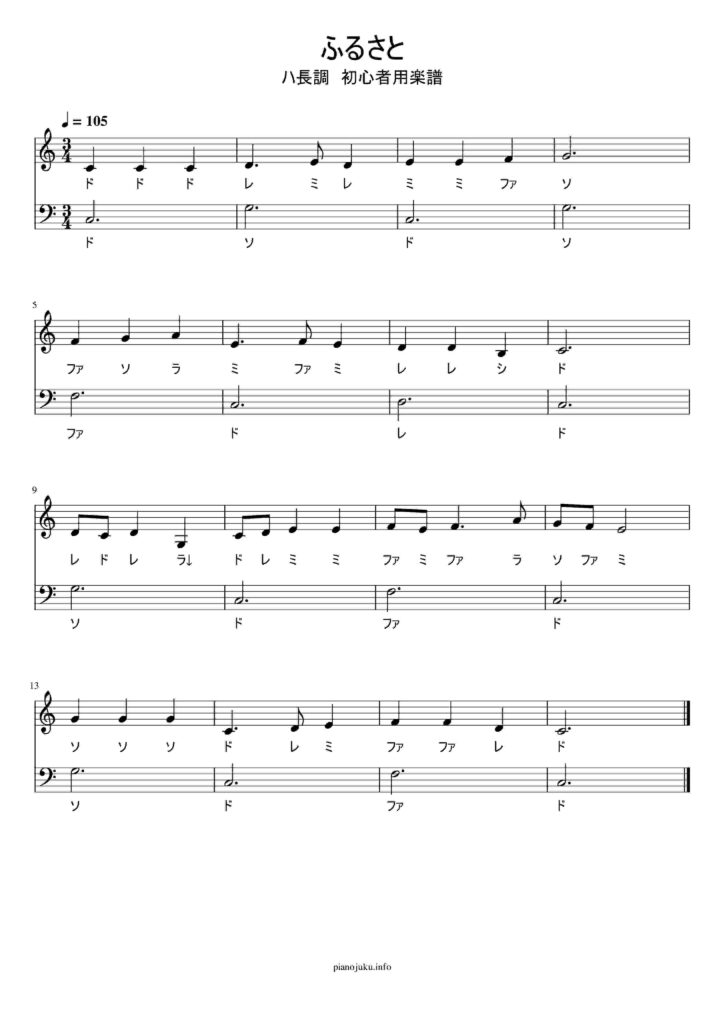 Furusato Free Sheet Music (3)
Next is the score from (2) with a slight increase in difficulty for the left hand.
The score is easy for beginners to read, as the single notes have been replaced by chords and the detail has become a little finer.
The difficulty level is elementary.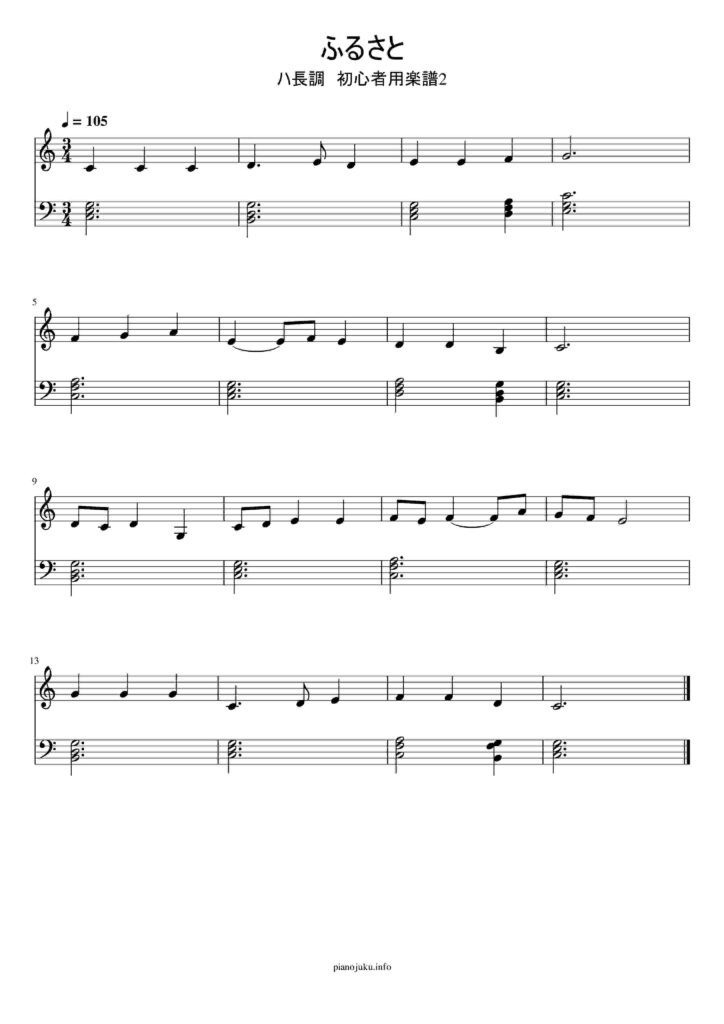 Furusato Free sheet music (4)
It is a somewhat difficult score with increased difficulty for both the right and left hands with even an intro at the end.
Please note that this is a free service and is not complete.
The difficulty level is beginner to intermediate.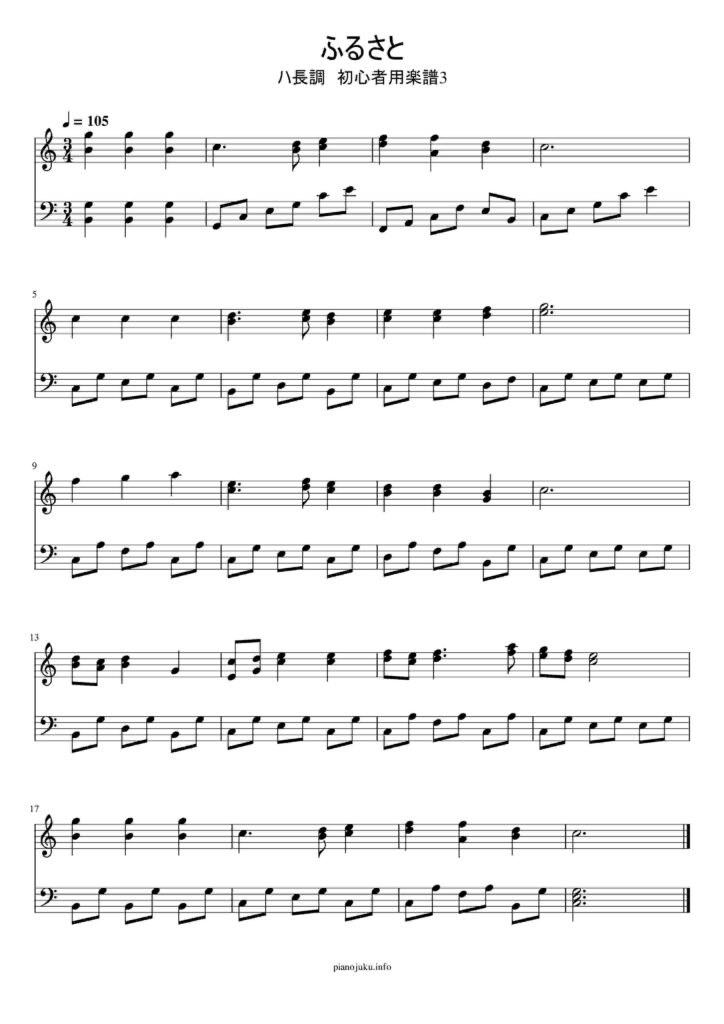 【初心者向け無料楽譜】民謡・童謡・合唱曲 楽譜一覧