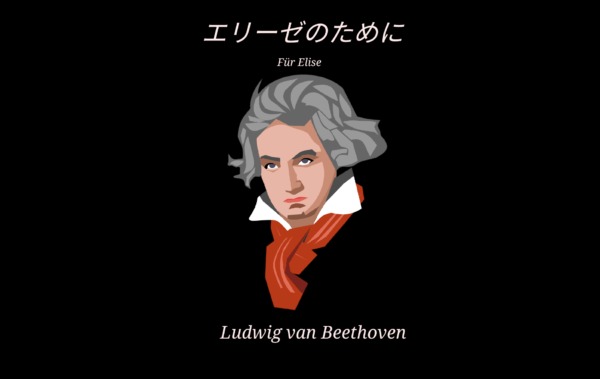 Anyone who plays the piano, especially classical music, will go through this song.
One of them is "For Elise".
In this issue, we will introduce free piano sheet music for Elise.
We have not only the original sheet music, but also various arrangements, so please try to find the music for Elise that you like.
For Elise" is found in a high percentage of common piano books, particularly Bayer.
It is also performed frequently at piano recitals, along with the Turkish March.
In fact, "For Elise" is often sold for a fee, but the original sheet music is out of copyright and can be found on the Internet in any number of formats.
It is better to use free ones unless they are professionally written and arranged.
In this issue, we present free sheet music for "For Elise" in raw score and arrangement.
The score may appear small or rough on smartphones and other devices.
Please click on the image of the sheet music to go to the link to download or print it.
Of course, downloading and printing is possible.
Origin of the name of the song "For Elise."
It is said that this piece was originally "For Therese" but was read as "For Elise" because the composer Beethoven's handwriting was so bad.
Therese was a friend of Beethoven's, spelled " Therese".
On the other hand, the spelling of Elise in "For Elise" is " Elise.
It is quite different, but was the handwriting that bad?
If this mistake in the title of the piece is true, it may be that Beethoven's music known to the world is actually read a little differently in pitch from the original.
-For Elise – Free sheet music (1) (Elementary Arrangement)
First, here is a simple arrangement score with do-re-mi of my own composition.
If you have difficulty with the regular For Elise, or if you are a beginner piano player, you may want to play this sheet music.
This is an easy score for beginners, with the difficult middle part in "For Elise" cut out and the left hand simplified considerably.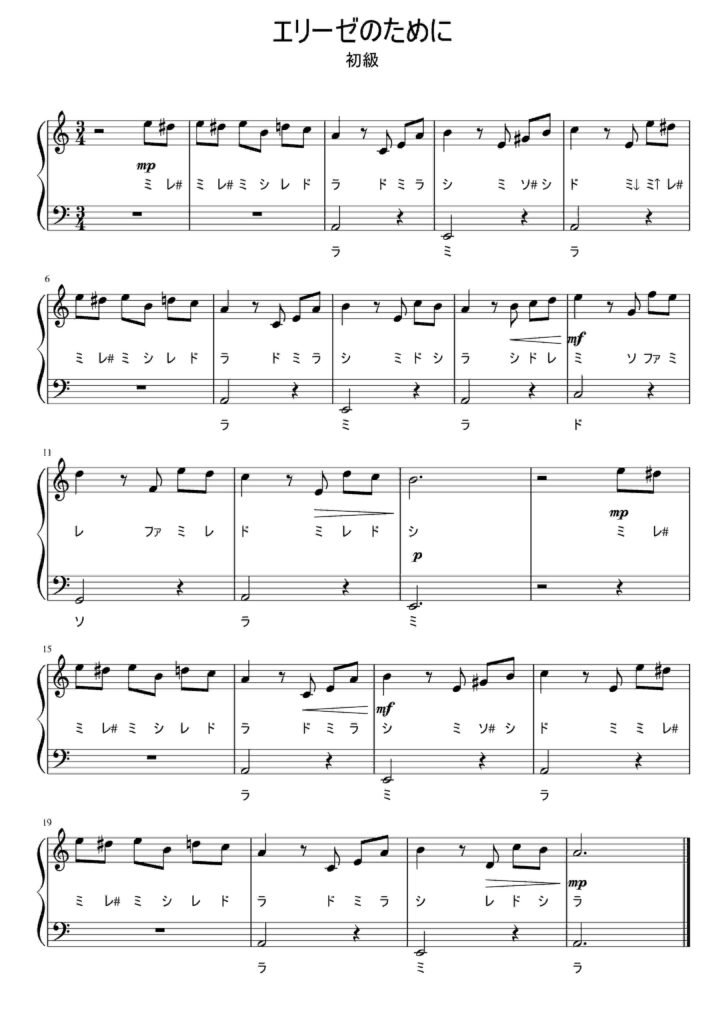 -Free sheet music for Elise
Next is the so-called raw score, which (presumably) has not been arranged.
Although there is nothing of particular note, the difficulty level of this song increases dramatically in the middle part of the song.
After all, it is fast.
On the other hand, if you try to play the middle part slower, the main part in the first half and the second half will seem incredibly slow.
This site allows you to replay the actual performance, so please practice while referring to it.
-For Elise – Free sheet music (3) (Jazz arrangement)
This is a jazz arranged version of "For Elise".
It features a jazz-like atmosphere and an up-tempo, exhilarating melody.
Personally, I like this song much better than the original.
In terms of difficulty, the main part is half as difficult as the original, while the difficult middle part is slightly easier.
Nevertheless, the level of difficulty is high throughout.
If you can play the piano to some extent, try it.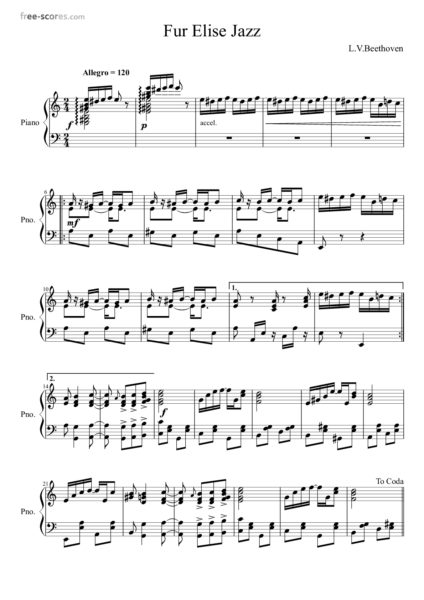 Source: MuseScore