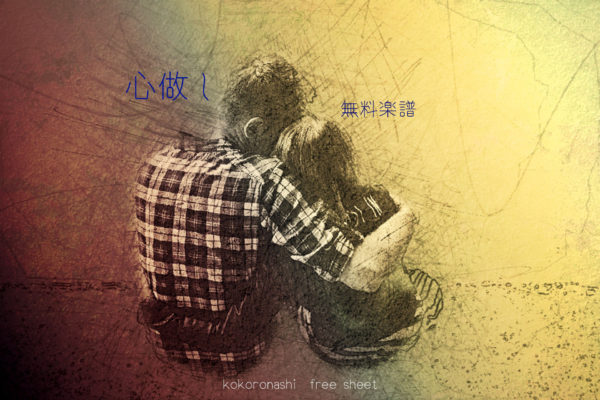 One of the best ballad songs among vocaloids, "Shin Makishi".
As you all know, it is read as "Kokoronashi.
This song is a Vocaloid GUMI song created by "Butterfly P" in 2014.
Butterfly P" is the author of one of the most popular songs, "Eh? Ah, yes. In 2011, "Chouzu P" achieved a million-seller on Nico Nico Douga with his representative song, "Ehh, Yes.
The song started with a low-pitched up-tempo, which is rare in Vocaloid music, and with the instrumental bass as one of the axes of the accompaniment, it was easy to get it stuck in my head.
This "心做し" is a representative song in the karaoke ranking, "Eh? Ah, yes. This "心做し" is ranked far ahead of the representative song "Eh?
It is an easy song to sing among Vocaloids, and its sad lyrics are probably resonating mainly with high school girls.
I have heard it many times myself, and the last part of the chorus, "Moi yo", makes my heart gulp no matter how many times I hear it.
In this issue, we will introduce free piano scores of such "心做し".
Compared to other Vocaloid songs such as "The Disappearance of Hatsune Miku" and "Matryoshka," this song is a slower tempo ballad with a strong melody section.
Therefore, this sheet music is relatively
Many of the scores are gentle and easy
and easy to read.
Many of the scores can be played by beginners with a little practice, so please give it a try.
Please click on the image of the piano sheet music to go to the link for details.
All sheet music is available for
Downloading and printing is possible.
and printable.
If the free sheet music we introduce just doesn't fit your needs, please try purchasing professionally written sheet music at a bookstore or online.
Shinsekishi_Piano Score 1 (Intermediate)
The first one is this piano score.
The music is notated in great detail, including playing symbols such as strength and weakness.
It's hard to believe it's free, it's so complete.
This is the most recommended sheet music among those presented here.
Difficulty level is
Intermediate
is
The score is somewhat difficult, but it is very nice and complete, so if you can play it to some extent, please give it a try.
*Free membership registration is required to download and print this sheet music at the link.
 from sheethost
Shin Makishi_Piano Score (2) (Beginner-Intermediate)
Next we present this piano sheet music.
This score is a score in which the melody is separated from the piano accompaniment.
This sheet music is perfect for playing narrated music.
If you play the piano alone, you may feel that it is not enough, so you will need to be creative by playing the flute part, which is the melody, with your right hand in places.
Difficulty Levels are
Beginner to Intermediate
The level of difficulty is
 from flat.io
[Source.]