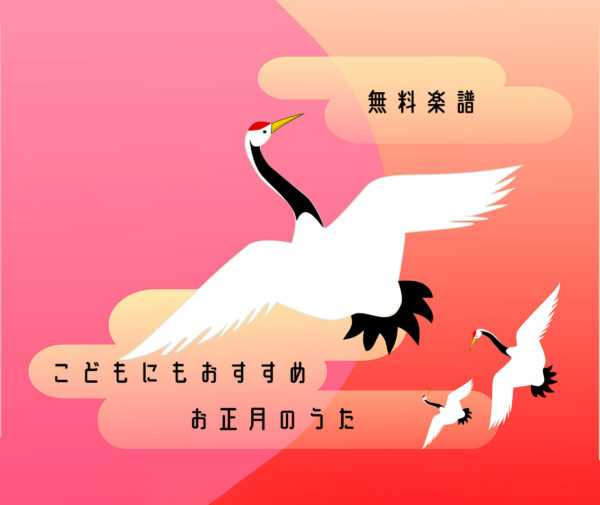 New Year's Day arrives as soon as you think Christmas is over.
I used to look forward to receiving my New Year's gift, but now I look forward to the holidays.
As soon as Christmas is over, retailers quickly change to New Year's mode.
It reminds me of myself watching TV under the kotatsu at the end of the year, and I feel relaxed.
I always feel that it is amazing how retailers, including supermarkets, change their stores to New Year's mode at once as soon as Christmas is over.
This time, among such New Year's songs
Free sheet music of classic songs
of the classic New Year's songs.
We have collected only super easy difficulty levels that can be recommended for beginners and children, so please give it a try.
Click on the image of the sheet music to go to the link.
At the link.You can download andprint it.The following is a list of the most common problems with the
Download and print it or play it while viewing it on your iPad or other tablet.
New Year's Day
The first one is "Oshogatsu," a children's song that probably every Japanese person knows.
It's the song "Moukodate netsutoru~."
This is a very standard New Year's song that can be heard from nursery school to elementary school and on various TV programs.
Also, when I was in elementary school, many different dubbed songs were popular.
New Year's Free Sheet Music ① (Doremi)
The first score is a simple melody-only score for beginners.
I transcribed it, so sorry if it is wrong.
The score is written in melody-only notation, with the do-re-mi written below the notes so that even beginners can understand the melody.
The sheet music could easily be played on a piano app or pianica.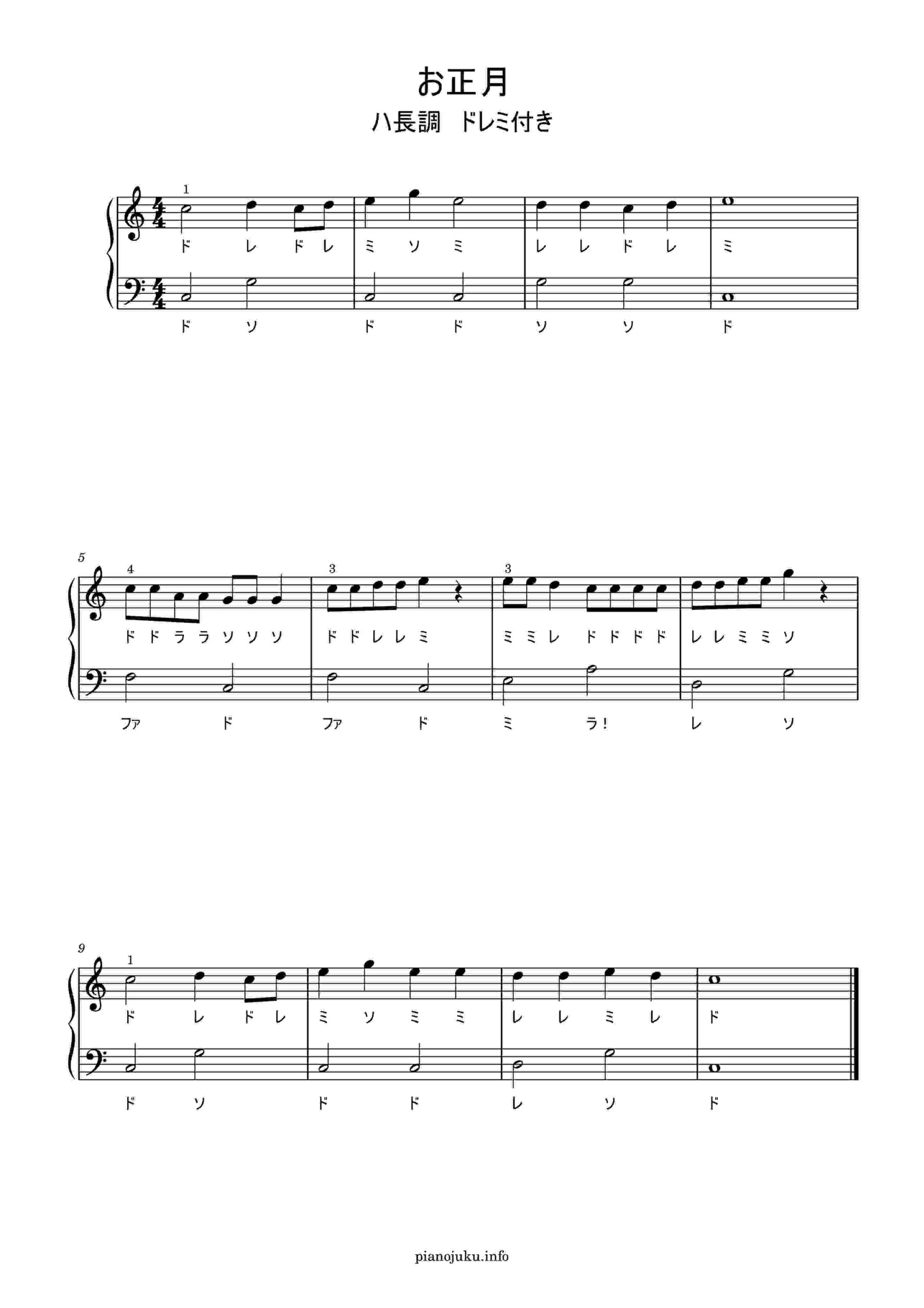 New Year's Free Sheet Music (2)
The following sheet music is a slightly more difficult version of ① for the left hand. The increased difficulty makes the piece thicker.
This is another easy difficulty level that can be played by piano beginners with a little practice.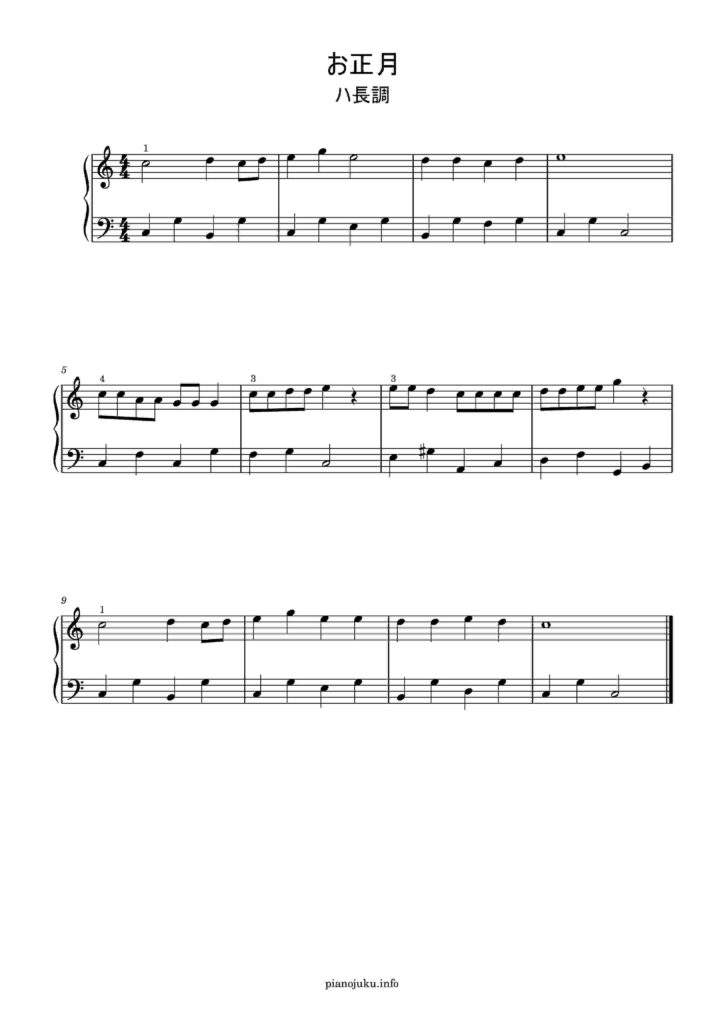 light of a firefly
The following is the sheet music for "Hotaru no Hikari," a song that everyone knows.
Why firefly light on New Year's?"
Many of you may be thinking.
The original song is actually a Scottish folk song, and is a standard New Year's Eve song in Scotland, England, and the United States.
Japanese people are not familiar with it, but we dared to introduce it here to let you know about its culture.
Light of Fireflies Free sheet music 1 (Doremi)
The first one is also melody-only sheet music.
Easy sheet music for beginners.
The score also includes the do-re-mi scale, so even young children will be able to play it right away.
I transcribed this one as well, so please let me know if there are any mistakes. m(_ _)m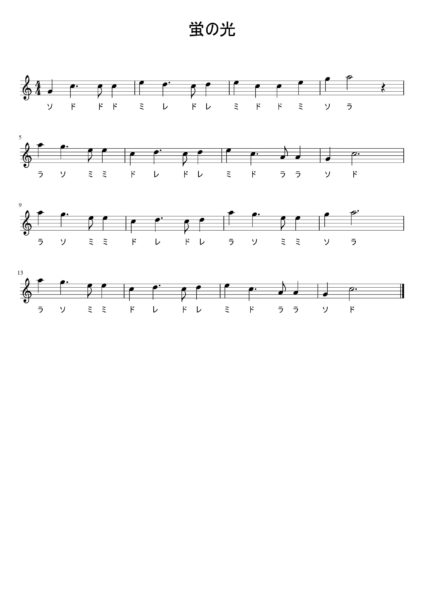 Hotarunohikari Free sheet music (2)
The next one is a self-written score with a slightly more difficult level of difficulty.
Both the right and left hands use more chords, but the composition is simple, with no particular twist.
Also, since this one is in C major, the black keys are not used.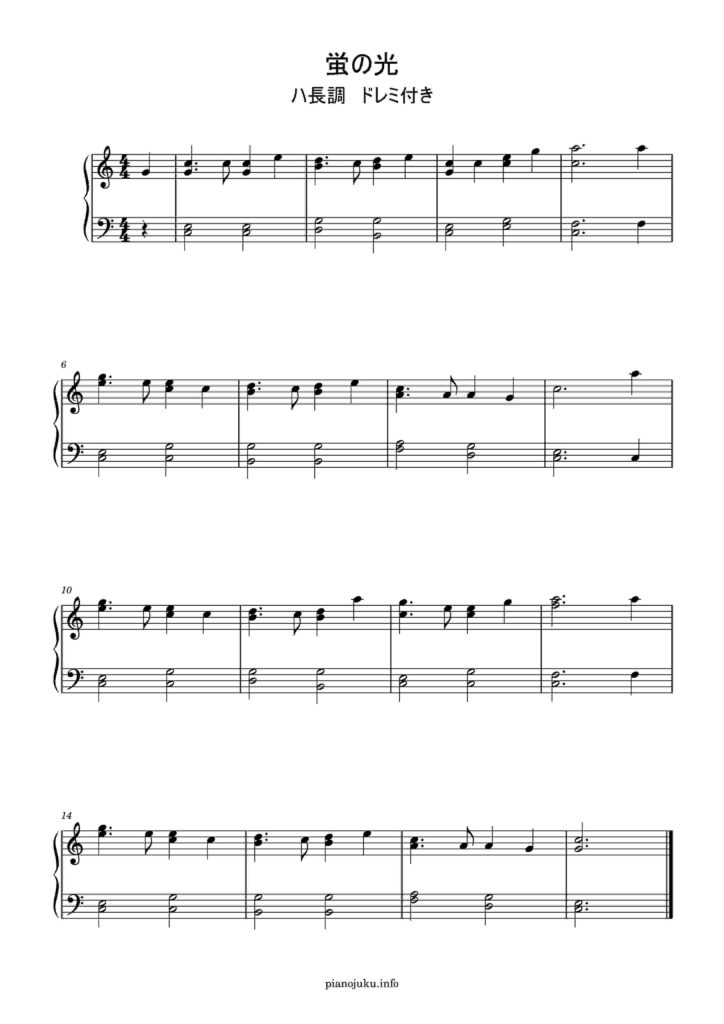 Beethoven Ninth (Ode to Joy)
In Japan, there are often TV shows where people sing the Ninth (Ode to Joy) composed by Beethoven at the end of the year.
It was originally sung in Germany at the end of the year after World War I as a sign of peace.
This song is also well-known and is introduced here.
Ninth Symphony (Ode to Joy) Free sheet music
It is transposed to the key of C major, with a Do Re Mi scale.
There are no particularly difficult parts, so even piano beginners will be able to play it right away with a little practice.