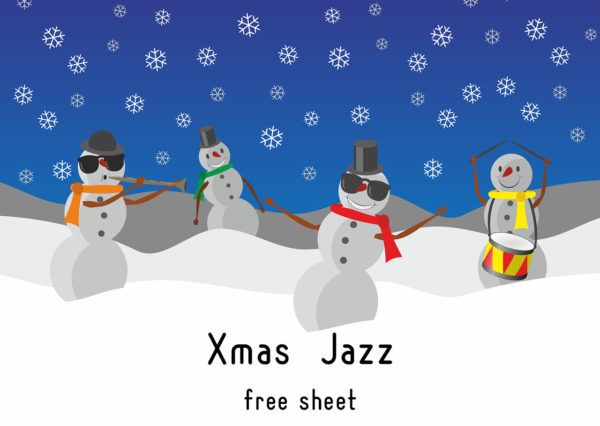 Jazz is great to listen to in the hot summer, but jazz is best in the winter.
Especially at Christmas time, we would like to enjoy a drink in a quiet jazz world with the lights that color the city.
In this issue of Jazz Songs for Christmas Free Piano Sheet Music to introduce you to some of the best free piano sheet music for Christmas.
There is no extremely difficult music in the scores presented here, but there are some difficulty levels that are a little difficult for beginners.
If you are a beginner, please refer to this article for recommended jazz sheet music.
Click on the image of the sheet music to go to the link.
At the link.You can download andprint it.The following is a list of the most common problems with the
Download and print it or play it while viewing it on your iPad or other tablet.
Original Christmas Songs
The first song I would like to introduce is "The Christmas Song" by Mel Tome, created by "musicosa", which I found on the sheet music site Musescore.
I played it once myself and found it soothing to play.
The performance, of course, is relaxing, even if you listen to it purely as background music.
This is my personal most recommended Christmas jazz song.
from musescore
White Christmas
It's a Christmas song sung by Bing Crosby.
Here is the sheet music for the jazz version of this White Christmas.
Christmas Jazzy
Here is an original Christmas jazz song available at free-scores.com.
It is wintery and built around high notes.
Even though it is jazz, it would be more pleasant to play at a brisk tempo.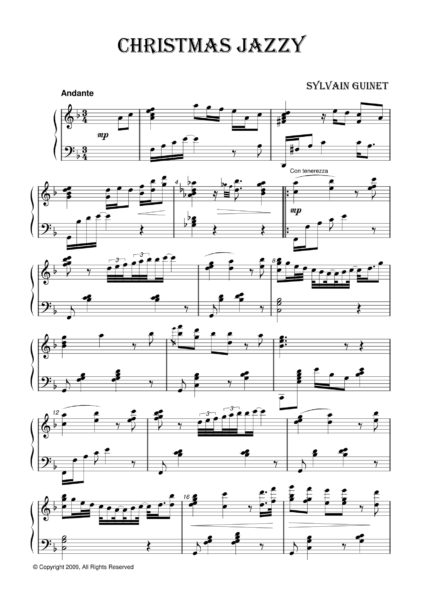 from free-scores.com
Jingle Bells (Jazz arrangement)
This is a jazz arrangement of the famous Christmas song "Jingle Bells.
The score is easy to play because you know the original music.
In the beginning, play slowly and chew on the tempo.
The arrangement comes in strongly in the middle.
From the midpoint of the performance, try to keep the tempo up and fun.
from musescore
【初心者向け無料楽譜】民謡・童謡・合唱曲 楽譜一覧