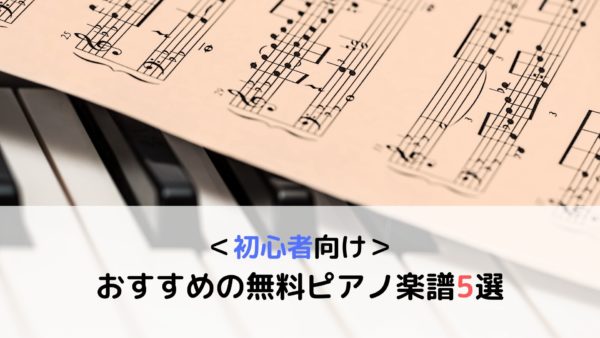 Once you have mastered the posture of playing the piano, finger shapes, and how to read music, the next step is to actually practice a song.
But you don't know what songs to practice first.
It is good to buy an instructional book such as Bayer and practice the songs listed in it one by one, but it can become uninteresting to play songs that you have never heard before.
So, this time, I'd like to introduce the sheet music of famous songs that everyone has heard at least once. in order of difficulty. in order of difficulty.
All the sheet music presented is free of charge.
You can use it right away, so just try it out and if it's not interesting, play another score.
If you click on the image of the sheet music, it will take you to the website where it is posted, so please refer to the link if you have difficulty viewing the image due to poor quality.
The music is selected to be easy for beginners, but all scores are to be played with both hands.
If you are not yet familiar with playing with both right and left hands, practice the sheet music presented here to master the technique.
(1) Twinkle Twinkle Twinkle Star
Everyone has sung "Twinkle, Twinkle, Twinkle Star" when they were little.
The melody of the twinkling star is so easy that even someone who has probably never practiced the piano can play it right away.
However, adding a left-hand accompaniment to a right-hand melody is good practice for beginning piano players.
This is a very easy accompaniment, easy to play even for beginners. easy to play sheet music even for beginners. The score is very easy to play for beginners.
First, let's " practice playing with both hands" with this twinkling star.
Of course, at first you practice only with your right hand, and then only with your left hand.
By the way, the numbers above and below the notes are finger numbers.
Let's play slowly, checking each one.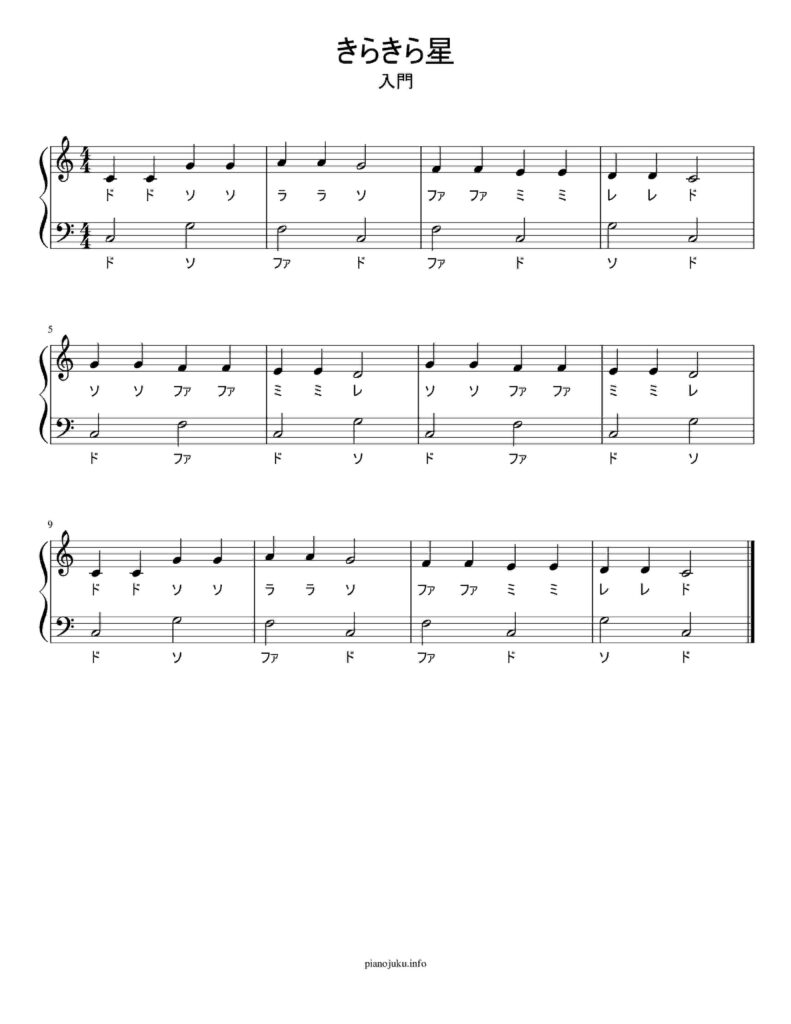 Click here for other scores of Twinkle Twinkle Twinkle Star
Free sheet music for folk and children's songs is also available here.
(2) Jingle Bells
Here is another very famous song, "Jingle Bells".
Every year at Christmas time, you probably hear about it at some point.
Many may be more familiar with it than the "Twinkle Twinkle Star" of (1).
The tempo is faster than in "Twinkle Twinkle Twinkle Star." a little more difficult than "Twinkle, Twinkle, Star". and a little more difficult than "Twinkle, Twinkle, Star".
Practice at a slower speed than the tempo in the score at first.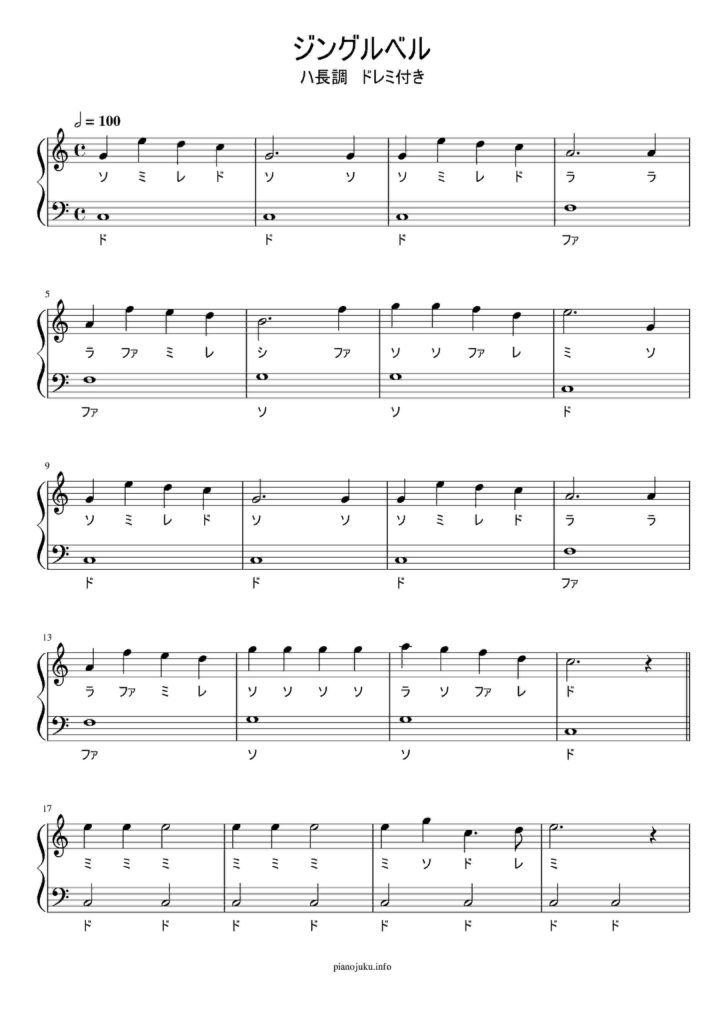 Click here for more Jingle Bells sheet music
Happy Birthday to you!
When it comes to songs to sing on your birthday, this is the one.
Looking at the score alone, the first dotted eighth note is followed by a sixteenth note, which seems to be confusing.
However, if it is a song I know, the sound will flow in my head and it will be easier to play.
Try playing it while ticking the rhythm or singing "Happy Birthday…" in your own head.
If you play a song you know like this, you will be able to grasp the length of the notes by feel.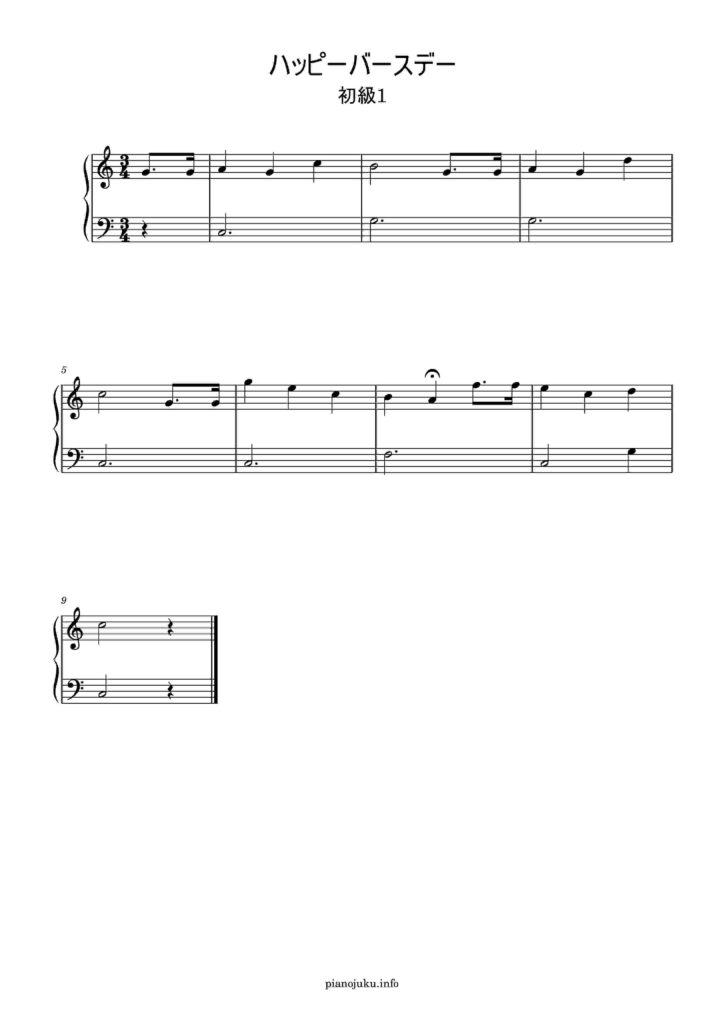 Happy Birthday sheet music in other difficulty levels is here↓↓.
(4) Song of Joy
The fourth piece is "Ode to Joy" by Beethoven.
It is famous for the lyrics "Hareru Aozora♪"
If we reproduced the original music, the score would be very difficult, but this is an easy arrangement.
However, the left hand must be played with a slight hand movement, and three notes must be pulled at the same time.
Practice the right hand and left hand separately first, then play them.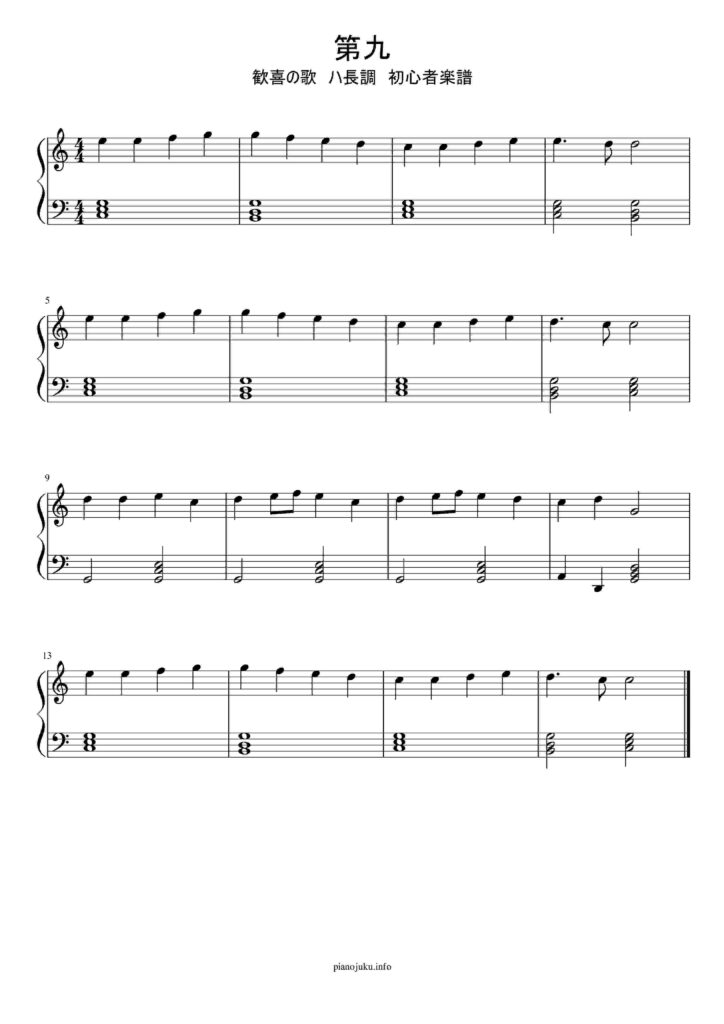 Sheet music for other difficulty levels of Song of Joy is here↓.
5) Small World
Finally, there is the little world of Disney.
It is a very famous nursery rhyme.
It is a little difficult because the range of the right hand is a little wider and the left hand is a little faster.
If you can play the first two bars easily, you will be able to play the whole piece.
If you can play this smoothly, you will graduate from the introductory difficulty level.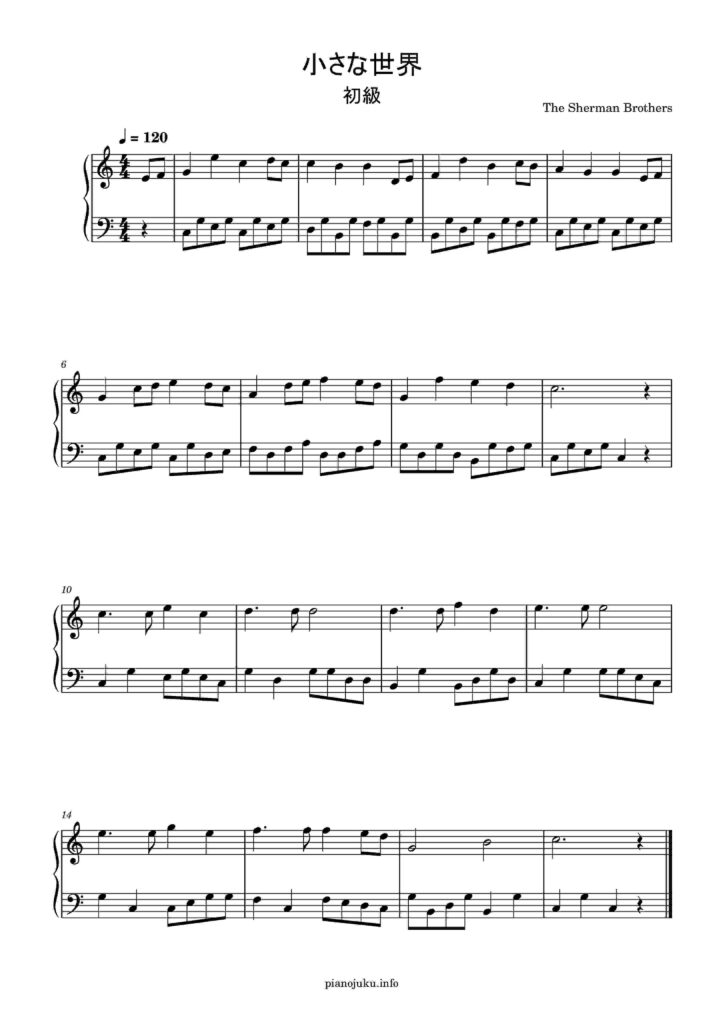 Free Disney sheet music for other difficulty levels is here↓↓.
extra (special) edition
Finally, as an extra feature, we present "Kimi wo nosete," the ending theme of Studio Ghibli's "Laputa: Castle in the Sky.
Overall, it is relatively easy, but flats are attached to la shi mi.
I have introduced this piece because it is a perfect practice piece using black keys.
If you have never heard of it, please search for "Kimi wo onote".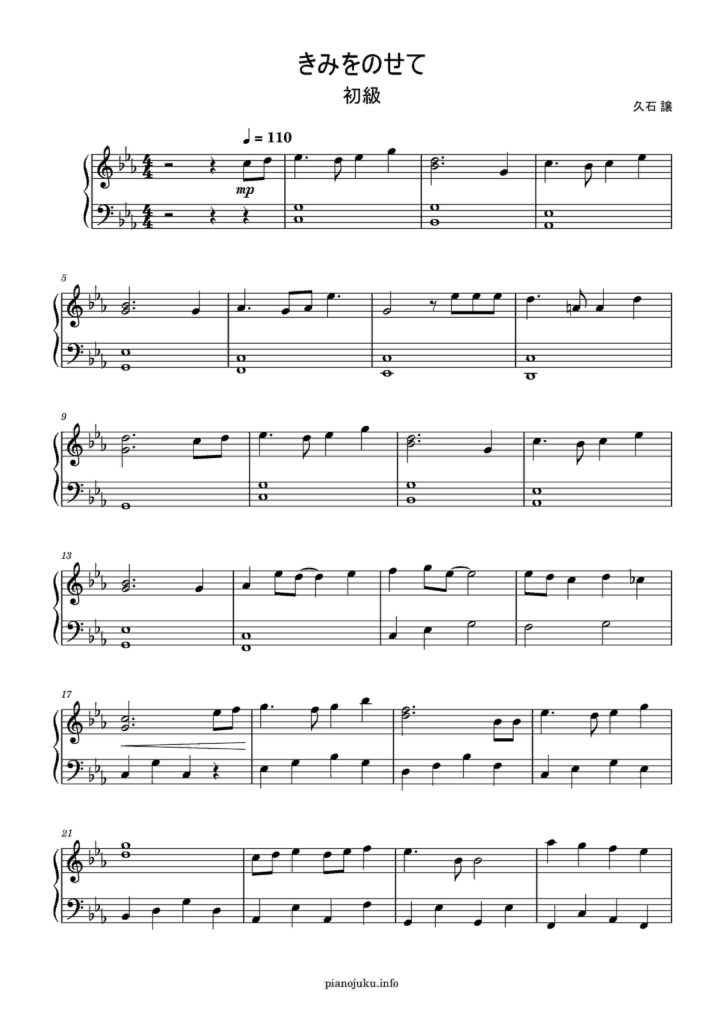 Click here for more free sheet music by Ghibli