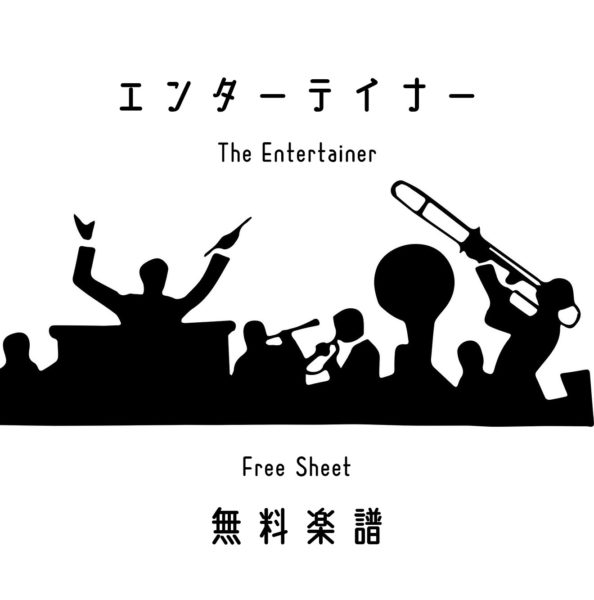 Entertainers" are used in a variety of places, from sports cheerleading songs to movie theme songs.
As its title (Entertainer = a person who entertains others) suggests, the performance is exactly what puts people in a pleasant mood.
Many piano pieces, especially classical, have sad or intense phrases in the music.
However, as far as this song is concerned, it is one that can be played and heard again in a happy state from beginning to end.
In fact, this song was not at all popular when Scott Joplin composed it in 1902.
Arranged by Marvin Hamlisch in 1974, it spread worldwide, partly because it became the theme song of a movie.
Nowadays, this piano piece is loved by men and women of all ages.
Now let me quickly introduce the sheet music.
You may hear it played at a relatively fast tempo, but as you can hear on YouTube, the original piece is played at a slightly slower tempo.
However, when you actually play it, you will find that it is more difficult than you expected.
If you go in with the image of "it looks easy," as I did, you will fall behind, so make sure you put your mind into it.
Entertainer Free sheet music (1) (with Doremi)
The first score is a melody score I transcribed and made for children and beginners who are just starting to play the piano.
Only the first melody of the Entertainer is extracted; the entire song is not covered.
First of all, this score will use black keys no matter how hard you try.
Be careful to play with flats (♭) and sharps (#).
In addition, the entire piece uses more than two octaves of keys.
Even the same "le" can have a high "le", an intermediate "le", and a low "le", so be sure to look at the sheet music carefully to avoid mistakes.
Please use this if you play on your phone's piano app or pianica.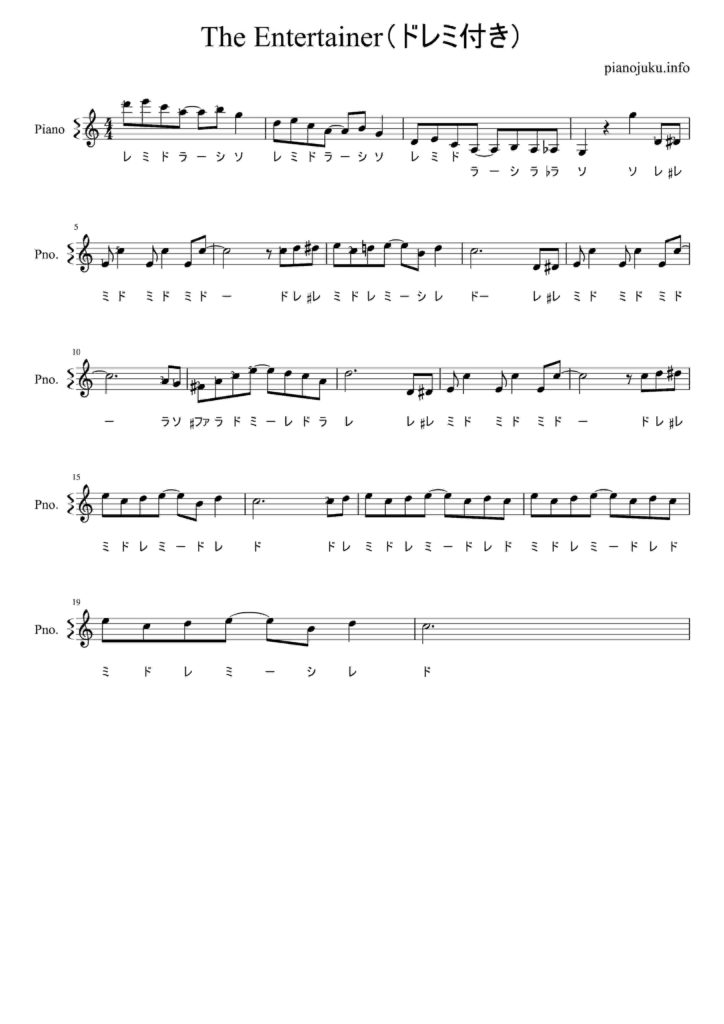 Click here to download the PDF
Entertainer Free Sheet Music (2)
Next, here is some sheet music for beginners.
Both the right and left hands are in F cle f. If you start with the image that "the right hand is the G clef," you will end up with a messed-up piece of music.
Although the piece is played with both hands, it is arranged to be played easily with only single notes, eliminating chords at key points.
Nevertheless, there are some right hand movements that would not be suitable for beginners.
First, learn the movement well enough with the right hand only before practicing with both hands.
The level of difficulty is higher for beginners.
Entertainer Free Sheet Music (3)
The last score presented here is almost exactly the original score.
Although there is a slight arrangement of the original music, it was the most enjoyable score to listen to, so I will introduce it to you.
(2) Compared to the previous scores, it has considerably more chords and uses more black keys.
The difficulty level is a little high, but not too difficult as long as you have a firm grasp of the basic melody.
Especially with regard to chords in the right hand, many of them are played by sliding with the same finger shape.
Once you can play at a slower tempo all the way through, you will quickly master it from there.
As you can see from the score, the notes are somewhat packed and difficult to read.