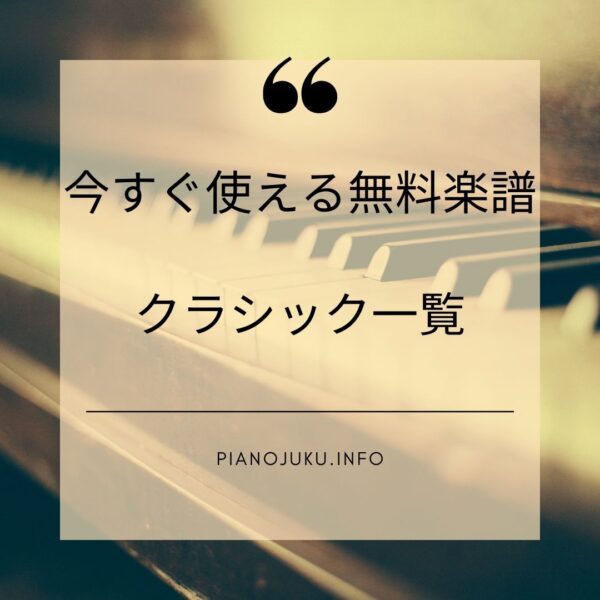 Classical music has been created by many famous composers from the 17th to 20th centuries. Even today, classical music is widely used in TV commercials, on train platforms, and as broadcast music in schools. Many pieces of classical music have been created for piano lessons, and many piano schools, including Bayer, offer lessons focusing on classical music.
Such is the case with classical music, much of which is out of copyright. You can buy professionally arranged sheet music at a bookstore, but there are also many free classical piano sheet music available on the Internet. We recommend that you first choose one that you can view or download for free, and if you don't like it, you can purchase it at a bookstore or on the Internet.
Here is a list of free classical piano sheet music that we have created or introduced on this site. Many of them are arranged for beginners, and some of them are arranged for students. Please enjoy your piano life by finding the sheet music that suits your level of difficulty.
Title Alphabetical Order
This is a list of music from the 1600s to the early 1900s by common name, not by work number or title. Please note that the number is still small but will be updated as needed.
"a" column or row of the kana syllabary
Eine Kleine Nachtmusik (Mozart )
Dream of Love No. 3 (Franz Liszt)
The Maiden with Flaxen Hair (Debussy )
Overture to William Tell (Rossini)
The Blue Danube (Johann Strauss II)
Fate, 1st movement (Beethoven)
○ Entertainer (also categorized as nursery rhymes on this site)
The Maiden's Prayer (Badajewska)
XX Toy Soldiers' Watching Ceremony (Leon Yessel)
classification for Japanese verb with the dictionary form ending in "ku
Chopin's "Grand Circle Dance" (Chopin)
The Nutcracker March (Tchaikovsky)
"sa" column or row of the kana syllabary
From the New World, 2nd movement (Dvorak)
From the New World, 4th movement (Dvorak)
classification for Japanese verb with the dictionary form ending in "tsu
Promenade" from "Pictures at an Exhibition" (Mussorgsky)
Turkish March (Mozart and Beethoven)
"na" column or row of the kana syllabary
"ha" column or row of the kana syllabary
The Swan from Carnival of the Animals (Saint-Saens)
Spring from The Four Seasons (Vivaldi)
Hallelujah Chorus from Messiah (Handel)
Hungarian Dances No. 5 (Brahms)
The Mean Clavier, Vol. 1, No. 1 (Bach)
"ma" column or row of the kana syllabary
Maple Leaf Rag (also categorized as nursery rhymes on this site)
Jupiter – From the Planets – (Holst)
"ya" column or row of the kana syllabary
"ra" column or row of the kana syllabary
Radetzky March (Johann Strauss I)
○Requiem in D minor, K.626 (Mozart)
classification for Japanese verb with the dictionary form ending in "su
Ride of the Valkyries (Wagner)